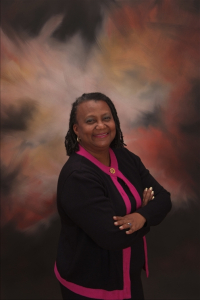 Dr. Pamela Payne Foster is a Preventive Medicine/Public Health physician who currently serves as Professor in the Community Medicine/Population Health Department at the University of the University of Alabama School of Medicine, Tuscaloosa campus as well as Deputy Director for Community Outreach of the Institute for Rural Health Research.   Dr. Foster's current research area of interest is the study of HIV/AIDS related stigma in rural African Americans in Alabama, particularly in faith-based settings in rural Alabama.
She and her husband, William Foster Jr founded a nonprofit AframSouth Inc where HIV prevention is at the core of their work.  Most recently, they founded a low power FM radio station based in Montgomery, AL 94.5 FM (WUMO) which also operates as  an online internet station (wumolpfm.org).  They recently became a recipient of a CDC/ADPH Ending the HIV Epidemic where they produce a Black woman's HIV prevention show entitled "A Woman's Worth" where Dr. Foster serves as Co-Host with ReShanda White.  She is also the author of two books, "Is there a balm in Black America?  HIV Prevention in the African American Community" and "Practicing Prevention" which incorporate wholistic approaches to dealing with health disparities.
Dr. Foster received her BS degree in Chemistry Pre-Medicine from Xavier University in Louisiana and her MS in Biomedical Sciences and MD from Meharry Medical College in Nashville, Tennessee.  She completed an Internship in Internal Medicine and Residency in Preventive Medicine/Public Health at State University of New York at Stony Brook where she also completed her MPH at Columbia University.  She has served on the faculty of a variety of institutions including Morehouse School of Medicine, George Washington University, SUNY Stony Brook, and the National Bioethics Center for Health Care and Research at Tuskegee University.
She currently lives in Montgomery and Tuscaloosa Alabama where she is a proud member of Delta Sigma Theta, Inc. and is currently a member of the Montgomery AL Alumnae Chapter (MAC).