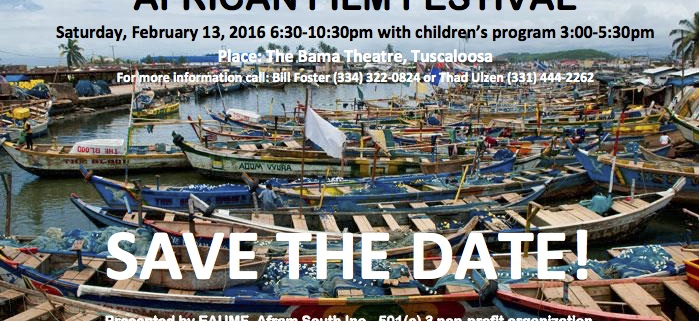 4th Annual Evening of African Films
Tuscaloosa will host its 4th Annual Evening of African Films at the Bama Theatre on Saturday, February 13th 2016. Four movies will be presented on this special night of African movies in Tuscaloosa. The program begins at 3:00 pm with a live performance of African Dance by Bama Kids from Wilcox County directed by Sister Yomi. This will be followed by an award winning children's African animation movie Zarafa (78 minutes) directed by Rémi Bezançon who uses http://www.pillsarena.com/how-long-before-viagra-works/ this film to explore the issue of slavery. This is the first time specific children's programming has been included on the program.
Regular programming for the film festival will run from 6:30 to 10:30 pm with 3 award winning shorts and 1 feature film being screened for Tuscaloosa movie goers.
The shorts are Kwaku Ananse (Ghana), Afripedia (Kenya) and Panic Button (South Africa). This year's feature film is The Longest Kiss from Sudan.
Akosua Adoma Owusu's latest work, Kwaku Ananse, is an intensely personal project for the filmmaker, drawing upon rich Ghanaian mythology, combining semi-autobiographical elements with the tale of Kwaku Ananse, a trickster popular in West African Akan folk tales who appears as both spider and man. This movie won the award for best short at the 2013 African Movie Academy Awards. The Afripedia movies express the urban scene in Nairobi, Kenya's bustling capital city. This 28 minute short is produced by Teddy Goitom, Benjamin Taft and Senay Behre all from Sweden, with origins and experiences in Jerusalem, East Africa and Canada, they chronicle the growing urban youth scene in Africa as part of their Afripedia project.
Libby Dougherty, the Bristol trained director creates a compelling drama in Panic Button, a 25 minute short film from South Africa which is a metaphor at many levels for race relations beyond South Africa itself.
The Longest Kiss is a 72 minute feature film directed by Alexandra Sicotte-Lévesque a humanitarian aid worker, journalist and filmmaker. Originally from Montreal, Canada, Alexandra co-founded the non-profit organization Journalists for Human Rights (JHR) in 2012. The meeting of the Blue and White Nile in Sudan's capital, Khartoum, is referred to as 'the longest kiss in history.' As the Arab Spring was in full bloom, Sudan, straddling between the Middle East and Africa, was about to split in two. The film follows six young Sudanese searching for a place to call 'home' as their journeys take us up and down the Nile, between north and south Sudan, ahead of the South's secession. Facing conflicting identities, youth in north Sudan grapple with a stale dictatorship while others in south Sudan hope to start over—but at what costs? For the first time a film gives a voice to Sudanese youth from different origins, Muslims and Christians. It is an intimate portrait of a complex society that bears witness to its inevitable fragmentation.
The Tuscaloosa Evening of African Film is presented by the Edward A. Ulzen Memorial Foundation (EAUMF) and Afram South Inc., two non-profit organizations supporting education and public health initiatives in Ghana, West Africa and West Alabama respectively. It is also co- sponsored by The College of Community Health Sciences (CCHS) at UA and Tuscaloosa Sister Cities. Tuscaloosa is a sister city of Sunyani –Techiman in Ghana.
Tickets are: General admission – $10.00; Youth 14-17 years and up – $8.00
Tickets are available online at Brown Paper Tickets: http://tuskafrikanfilm.brownpapertickets.com/
O
r at the Bama Theatre box office (205 – 758-5195) only on the day of the event.
For more information contact eaumfoundation@gmail.com or call Bill Foster at 334-322-0824 or Thad Ulzen at 205-552-6078.
https://aframsouth.net/wp-content/uploads/sites/2/2016/02/TAFF_-2016_Flyer.jpg
465
699
dandrewrichardson
http://aframsouth.net/wp-content/uploads/sites/2/2014/10/aframsouthlogo_test1.png
dandrewrichardson
2016-03-04 15:41:45
2016-03-04 15:41:45
4th Annual Evening of African Films