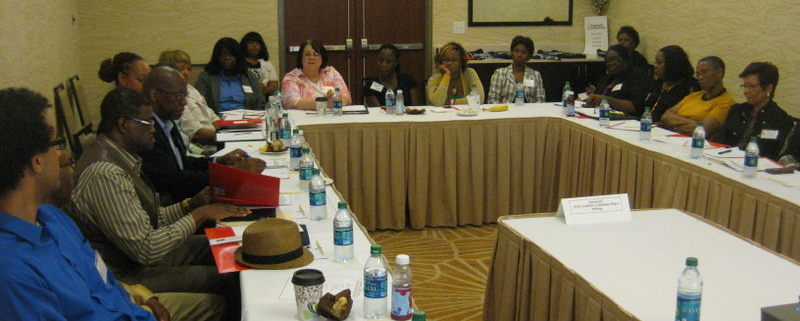 The main goal of this project is to strengthen the capacity of African American organizations to address the increasing HIV/AIDS epidemic in African Americans in Alabama which resides in the Deep South (Alabama) where the epidemic continues to increase. Although the one large statewide AIDS serving organization (AIDS Alabama) and the state health department are well funded to address HIV/AIDS prevention in the state, there is only one large AIDS Service Organization (ASOs) in Alabama which is solely focused on HIV/AIDS prevention in African Americans – Selma AIR. There was one other which is now out of business. Additionally, a few of the majority servicing ASOs have also gone out of business. There are a few other smaller organizations as well as organizations with broader missions focused on HIV/AIDS prevention in African Americans in Alabama, however there is a lack of specific organizational capacity building focused on HIV/AIDS in the African American community in Alabama.
AframSouth, Inc. has begun to fill this void. In 2012, we held an initial planning meeting with a few interested persons from invited agencies such as Southern AIDS Coalition, AIDS in Minorities and RP White Consultants in order to discuss the lack of current organizations, strategies to increase funding to existing organizations, and the development of new organizations.
In 2014, AframSouth hired ReaShanda White as a consultant to organize its first Capacity Building Meeting held June 13, 2014 in Montgomery, Alabama. This meeting brought together 20 persons of diverse backgrounds including 3 HIV/AIDS consumers, faith based leaders, and service providers and organizations to begin to discuss pertinent HIV/AIDS issues affecting African Americans in Alabama. At that meeting, it was decided that we would move forward with continued planning with facilitated telephone conference calls over the next several months and a follow up meeting scheduled for September 2014.
At the June 13 meeting, we surveyed participants and asked them their priority areas for continued planning and the top 5 responses for training and collaboration were:
Fundraising
Grant writing sessions
Increased capacity to increase linkage to care for positives
Diversification of Services for organizations
Increased capacity for consumer/community empowerment
Funding is requested to support the planning and implementation efforts of the capacity building efforts of the ACAP. We are requesting $25,000 to financially support the continued planning efforts from time of funding for coordinator fees for planning the telephone conference calls and upcoming September meeting as well as one collaborative project (to be decided by coalition members) and one training session December 2014-January 2015. We are targeting a total of 50 members in the ACAP with a total of 30 organizations reaching a total of 10,000 organizational or community members not HIV+ (average 333 each) and 3,000 HIV+ persons (average 100 each). Additional funds will be used for facilitator fees for telephone conference calls, speaker fees (hotel, transportation, speakers fee), meeting room fees, food and other conference fees for the September meeting as well as the December/January training session, as well as administrative costs for AframSouth such as office space and costs, supplies, personnel, etc.
We would like to partner with existing African American ASOs throughout the country to assist us with capacity building. We have identified Community ……..toni's organization as one of those partners. They have agreed to be a partner in our mission. (See LOS)
We also plan for this funding to serve as seed funding for additional funding and continued organization of the ACAP.
Project WISE (Working to Improve Sexual Education)
The Elton John Foundation located in New York City awarded a one-year $25K grant to the AIDS Coalition of Alabama Project (ACAP) in December 2015 to pilot an innovative HIV/AIDS research project. ACAP is made up of a coalition of organizations and individuals aimed at decreasing and preventing HIV/AIDS in African Americans in Alabama. ACAP partners include AframSouth, Inc. (Montgomery), Selma Air (Selma), Alabama State University Center for Leadership and Public Policy (Montgomery), Aletheia House (Birmingham), Central Alabama AIDS Resource & Advocacy Center (Wetumpka), Community Faith Partners (Huntsville), and persons living with HIV.
The project, "Working to Improve Sexual Education (Project WISE)," will focus on youth between the ages of 13 to 24 in Lowndes County, Alabama. Lowndes County is a poor rural Black Belt County with a population of approximately 11,299. Seventy-four percent are African American while 31.4% live in poverty with a median income of $23,050 (US Census, 2010). During three of the past five years, Lowndes County has had the largest incidence rate of HIV/AIDS in the state. Additionally, the pregnancy rate in the county for girls and women 10 to 19 years of age was higher (37.8/1000 live births) than the state average (24.2/1000 live births) (Alabama Department of Public Health, 2015).
The goal of Project WISE is to reduce the incidence rate of HIV/AIDS and prevent HIV/AIDS in Lowndes County. Using an innovative community-based approach, Project WISE will target a population that is vastly underserved in addressing and preventing HIV/AIDS. In addition, Project WISE will engage youth, youth groups, parents, school officials, churches and community leaders. A community advisory board will also be established to provide guidance for Project WISE participants.
The principle investigators for Project WISE are Associate Professor Pamela Payne Foster, MD, MPH, Department of Community and Rural Medicine and Deputy Director, Institute for Rural Health Research, College of Community Health Sciences at the University of Alabama, and Mel Prince, executive director for Selma Air, an AIDS services organization based in Selma, Alabama, which serves rural African-American populations.