https://aframsouth.net/wp-content/uploads/sites/2/2020/04/Screen-Shot-2020-04-07-at-6.42.53-PM.png
1364
1730
dandrewrichardson
http://aframsouth.net/wp-content/uploads/sites/2/2014/10/aframsouthlogo_test1.png
dandrewrichardson
2020-04-07 18:14:41
2020-04-07 18:14:41
The Aframsouth Journal – Volume 1 No. 01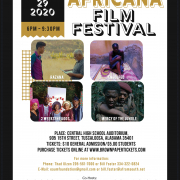 Tuscaloosa will host its 8th Annual Tuscaloosa Africana Film Festival to include films from the broader African Diaspora as well as the continent itself. Screenings of this year's selection will occur in a community setting at Central High School who are co-sponsoring the event on Saturday, February 29th 2020.
Saturday, February 29, 2020

Central High School, Tuscaloosa, AL

6 PM – 9 PM
Films include Razana, Engulfed, 2 Weeks in Lagos, and Mercy of the Jungle.
https://aframsouth.net/wp-content/uploads/sites/2/2020/02/TAFF2020_2_web.jpg-final-scaled.jpg
2560
1819
dandrewrichardson
http://aframsouth.net/wp-content/uploads/sites/2/2014/10/aframsouthlogo_test1.png
dandrewrichardson
2020-02-24 08:12:13
2020-02-24 08:12:13
8th Annual Tuscaloosa Africana Film Festival